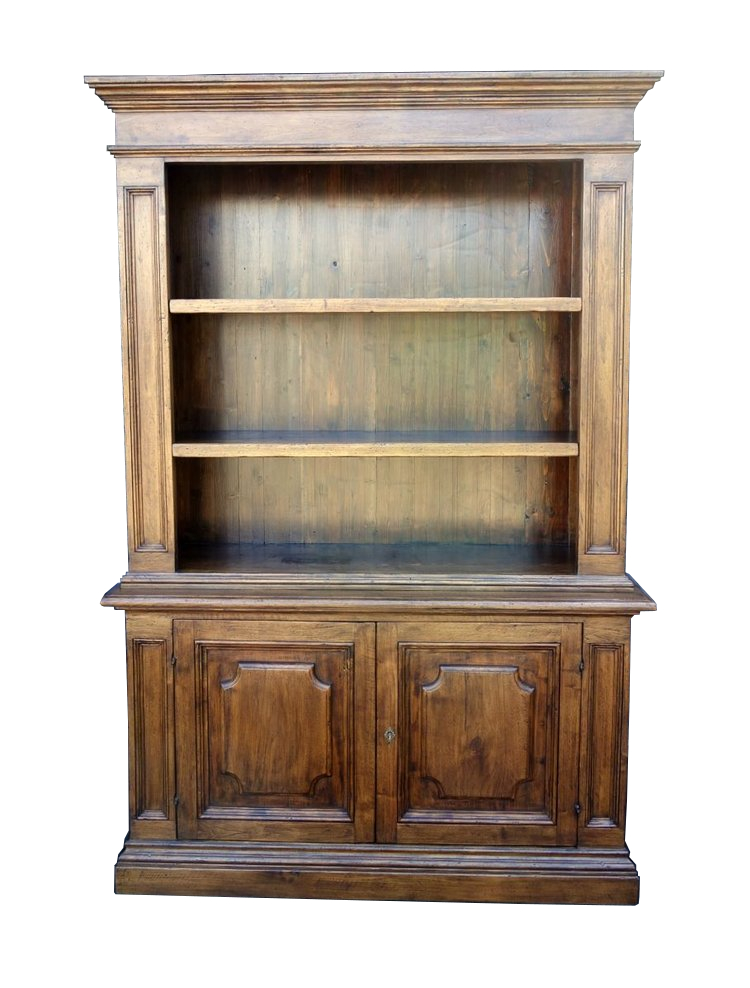 Library, Bookcase, Vitrine, Display Cabinet
FIRENZE Custom Library ~ Bellini's Old World Mediterranean Style Collection: Authentic Italian Antique Reproduction Tuscan 2 piece Credenza + Bookcase
Introducing the "FIRENZE" Library - the Italian Art & Handcraft of Fine Antique Reproduction - now available through Bellini's Antique Italia!
Bellini's Old World Collection: The "Firenze" library is one of a fine selection of Tuscan, Mediterranean, rustic, farmhouse & classic library, bookcase, vitrine and display cabinet styles adapted from Renaissance designs of 15th to 19th Centuries, reproduced with aged Italian walnut & chestnut solid hardwoods, built to your CUSTOM needs in size, color & patina. All of our credenza styles may be configured to accommodate your requirements.
PROMOTIONAL SALES EVENT NOW including CUSTOM ORDERS!
"Firenze" Custom Library with 2 upper shelves + 2 lower doors, Style 606-500
Floor sample measures: 62"W x 20"D x 92"H
As shown in premium Old Walnut Sale $9650.
Also available in heavy grained Old Chestnut, or rustic Old Poplar Sale $7950.
Lighter colors can be achieved with natural aged Italian Walnut (see listing of Venezia credenza), bleached or clarified woods (see listings under Primo Collection) , as well as European White Oak. Please inquire.
Specializing in restoration and reproduction of antique furniture for over 40 years, our Master Craftsmen in Southern Italy began recovering & finishing old hardwoods, particularly Italian walnut and chestnut. Their historical, artisanal passion continues with refined skill & knowledge, offering exclusive products of high quality, while preserving the tradition and style of Italian antiques.
Choose a style for your individual taste, contact us with your size & finish requirements, and we will work out the details. Your order will be built by hand in Italy and shipped to America.